Alaskan Guided Moose Hunting Trips for Residents and Non Residents
Alaskan Guided Moose Hunting Trips for Residents and Non Residents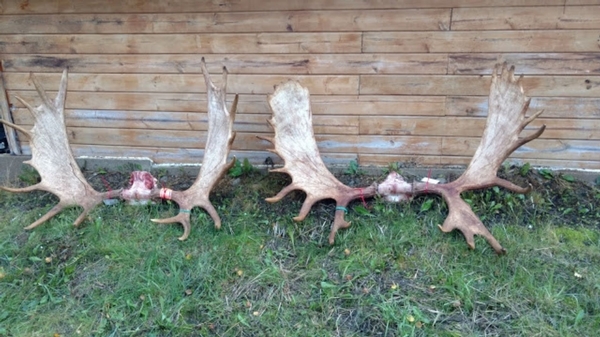 Alaska Moose Hunting is an excellent adventure as well as table fare for most Alaskan residents and nonresidents. Large enough to feed entire families, they can still be hard to find. Moose is a browser and lives in willow forest and infrequently feeds on water plants. We have all the right components to achieve Trophy Class Bull Moose in our specific region in southwestern Alaska.
Guided Alaskan moose hunt can be the adventure of a lifetime. Hunting takes place in the second week of September during the beginning of the rut. Seeing a giant moose in the hunting area is one of the most beautiful things you will ever see. Calling is the most exciting technique to hunt them. The Alaskan moose is the largest species of all moose. The massive and widespread create an awe-inspiring spot on the wall of any trophy room.
The moose must be 50 inches wide or have four brow tines in this area to be legal. This helps ensure trophy animals for the next season and ensures that any legal animal is a real trophy. It must be said that most of the bull is in that 60 inches wide that we take.
Moose hunt season begins September 5 – September 15th near the wood Tikchik lakes and Nushagak river zone. Alaska fish and game as tags on their state of Alaska website. To confirm Alaska Moose Hunting for Non-Residents with Nushagak Guides, all you need to do is make a deposit, and we will send you a contract for your hunt.
Another thing to consider, we support all of our hunting with our aircraft in this familiar country. We provide Bush Flight service in a moose hunting package. That's why the price of Guided Alaska Moose Hunt with Nushagak Guides in our package is more affordable than other outfitters.
Hunting with Nushagak Guides
Alaska offers some of the best big game hunting in the world. Planning and training are necessary for a successful hunt with rugged terrain, unpredictable climate, and remote areas.
To help you succeed, we will collaborate on an extraordinary hunting adventure and focus on a common goal. Your contribution has to reach physically and mentally ready. We are here to help you and hope you are as serious about your Alaskan moose hunt as we are. Be sure to let the Nushagak Guides know your expectations about your level of health and fitness. We accommodate all ages, levels, and specialties of hunters. Knowing your abilities lets us know how we can make you perfect for the game.
We have the resources to guide you on your quest in this wild country.
Alaska Terrain and Weather
While terrain and weather ultimately determine how we approach Alaska moose hunting for non-resident, we are all too familiar with these constraints as we live and hunt for a lifetime in Alaska. In the grip of torrential weather and a challenging mountain environment, we have had many successful hunts.
Posted in: Nushagak Guides News