Brown Bear and Yukon Moose Hunt: The Real Adventure
Brown Bear and Yukon Moose Hunt: The Real Adventure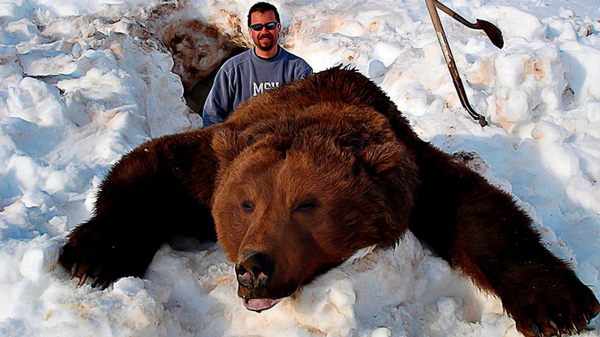 A hunt with Nushagak Guides is a once-in-a-lifetime real Alaska wilderness experience. We'll take you to the heart of Big Game Country, where you'll be staying in remote bush camps. In hunting with Nushagak Guides, you'll encounter some of the most peaceful environments ever set for heartwarming adventures that just can't be matched.
Our Alaskan brown bear hunting guides offer various hunting experiences, including spring and fall brown bears and also a few black bears are taken each fall. There are often opportunities to catch fish and hunt other trophies as well. We have experience in the wilderness, land, and mountain ranges of Alaska. As a result, we work hard, have fun, and have high hunting success rates.
We help hunters hunt moose and brown bears near the Nushagak River and the Wood-Tikchik State Park, an extremely isolated and wild region of Alaska. We have been hunting in this area for a few decades. Alaskan brown bear hunting guides personally guide all hunters, and there are usually two to three individuals, including guides, in the hunting area at any given time.
Nushagak Guides typically guide only a handful of moose and brown bear hunters each fall season, allowing us to focus on each hunter. We set up camps hunting from a lake or river location or float hunting with a boat down proven rivers. We provide full camps, including cots, shelters, pads, cook appliances, lanterns, cooking tools, game bags, boats, fuel, food, and bush flights.
Nushagak River and The Wood-Tikchik State Park
The whole region is unique in that it shares a population of the giant Alaskan Yukon moose and Spring and fall Brown Bear, which includes significant numbers of Alaskan wildlife, mountain brown bears, wolves, and the Caribou trophy. You'll see many bears across the river stream or bay eating salmon. Brown Bears in this region typically range from 7'to 10' and vary in color from bright blonde to deep, dark chocolate color. You will typically find Yukon Moose ranging in size from 50" to 70" with huge antlers on their shoulders that grow gracefully.
Accommodations
We execute a hunt mostly from spike camps equipped with tents, lamps, and cots. Guides stay in regular contact via in-reach and satellite phone. Float hunt is a very effective method of hunting moose in the riverbank region and which can use. Unguided Hunters should have their external frame pack and waterproof gears on these adventurous trips of Alaska state.
Experience a true adventure. Visit an Alaskan Bristol Bay and hunt brown bears. Our Alaskan Brown Bear Hunting Guides seek to provide the best possible hunt at an affordable rate. Our pricing is very competitive, and as such, it would be difficult to find a better price elsewhere on brown bear hunting. We hunt down some of the best wildlife areas in Alaska.
Other organizations offer hunting for many creatures, and they hunt in similar areas. As always with Nushagak Guides of Alaska, there are never any trophy fees or any hidden charges. Book your adventure trip today! Enjoy hunting the brown bears of Alaska!
Posted in: Nushagak Guides News