Guided Alaskan Brown Bear Hunts: Hunt trophy bears with us!
Guided Alaskan Brown Bear Hunts: Hunt trophy bears with us!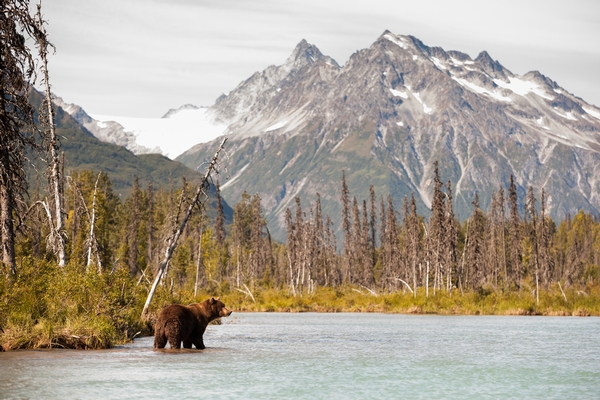 We conduct a trophy Alaskan brown bear hunt every year in excellent hunting areas of Alaska. Whether you are after a brown bear, black bear, or grizzly bear, our expert hunting guide will ensure you experience the most exciting and memorable hunting trip of a lifetime. Our master guide Brian Donovan has a reputation for harvesting quality trophy bears with a proven record of highly successful hunting.
At Nushagak Guides, we offer spring brown bear hunts and fall brown bear hunts:
These hunts are conducted when the bears emerge from hibernation and move to the areas where the first vegetation starts sprouting on hillsides and mountains. Our spring-guided Alaskan brown bear hunt runs from April 1st to May 25th (20 to 30 degrees).
Weather conditions are often unpredictable during spring in southwest Alaska, so hunting methods may also vary. If there is enough snow, we will use snowmobiles, and if not, we rely on other means, including boats and flying to spike camps, to ensure the best chances of success.
Our fall-guided Alaskan brown bear hunt begins on August 20th and ends on September 30th. During fall, bears are generally gorging themselves to prepare for hibernation. You can expect an average fall bear to be 8 to 9'6" in height, making it an excellent opportunity for you to bring a nice Alaskan brown bear trophy home.
Hunters should be prepared for a lot of glassing out of boats on lakes and the Nushagak River. It makes the fall brown bear hunt a less physically taxing experience.
Besides this, fall is a great time to be in Alaska. The abundant amount of Salmon will be running in the streams of the river, and the moose are also out.
Hunt Includes Tent camps, professional guide service, accommodation, homemade meals, safe use of equipment, trophy field preparations, hot water, and cozy cabins.
Alaskan brown bear hunt cost
Spring Brown Bear: $25000, April 1st to May 25th
Fall Brown Bear: $22000, August 20th to September 30th
After arriving, the staff will meet you and help you move into your tent or cabin to prepare and pack your gear. Our guide Brian Donovan will brief you on everything regarding hunting and share insights to make your hunt full of thrill and success.
Book your guided Alaskan brown bear hunts
Nushagak Guides is built upon years of outfitting experience, wildlife understanding, and careful hunt planning. As a company, we are dedicated to providing our hunters with exciting and safe games and allowing them excellent opportunities to harvest magnificent animals. Contact us today to learn more about our hunts, including dates and pricing!
Posted in: Nushagak Guides News