Moose Hunting And Fishing in Alaska
Moose Hunting And Fishing in Alaska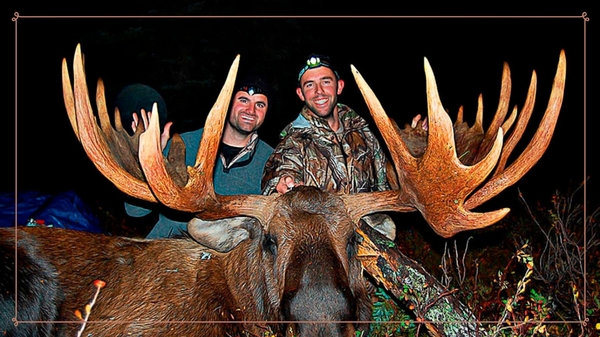 Your moose hunting success will depend on adapting the right choices before going to your moose hunt. Donovan Guide Service can help you to achieve moose hunting success.
Looking for Moose Hunting Experience
Moose hunting is hunting that even the well-traveled, high-budget huntsman do only a few times in their life span. So, it would be best if you did it correctly the first time. Mr. Brian Donovan can help you find whatever suits you. We offer Shiras Moose Hunts, Guided Alaskan moose hunt, Trophy Alaska-Yukon Moose, and more. Some of these hunts have the best trophy quality with finite entry tags.
You'll love hunting with our hunting guides here at Donovans Guide Service. They'll help you find the accurate information to find a moose hunt that meets your expectations, physical condition, and budget. Contact us to know Alaska guided moose hunt prices!
The Best Places to Hunt Moose
There are many hunting areas in the classification of moose hunting subspecies, so we will try to break it down by region. You must have the correct information to find the prey that meets your trophy quality expectations.
Moose Hunting in Alaska
You owe it to yourself to hunt Alaskan moose with Donovans Guide Service. Our hunters achieve an average of 85% to 90% success rates on trophies annually.
Our moose hunters attain high success rates on moose trophies year after year.
There are lots of excellent units in Alaska with over-the-counter moose tags. However, you can increase your hunting probability a bit by creating a tag in a controlled entity.
Alaska-Yukon moose that measure 60 inches are targets. But our huntsman sometimes takes a large bull to over 70 inches!
Combo hunts are ideal, which can save your dollars on your Alaskan hunt.
What makes our fully guided moose hunt typical is that you will hunt pre-scouted moose.
Our outfitters have a fleet of planes in the air for sport year-round. During the fall brown bear hunting season, they fly to moose hunting areas almost every day. By the time moose hunting season arrives, they know where trophy bulls live.
This gives our customers a unique advantage for excellent success when they appear.
A guided moose hunt isn't very physically hard, but the better fit you are, the more fun and more success you got.
These are September hunts, with some combo hunts extending into the first week of October.
Your way to hunt is spot and stalk.
Our hunters have a year-over-year success rate of 85% to 90%.
The average width of a bull is over 60 inches!
You will usually stay in the spring cabin after the early arrival. However, you will often reach the camp lodge and fly away from there.
With Donovan Guide Service, plan a Moose hunting and fishing trips to Alaska with your enthusiasm and adventurous intent to get success. Brian Donovan invites you to stay and fish with experienced guides on the Nushagak River, where you will enjoy a wonderful experience from beginning to end.
The Nushagak River is considered the best King Salmon River in the world! The "Nush" regularly has a run of King Salmon that is close to or exceeds 100,000 Kings! With these impressive numbers, it is no surprise that this river is famous among salmon piscators worldwide. The Nushagak River is also the chief river system of Bristol Bay in Alaska.
The Nushagak River in Alaska boasts larger runs of northern pike, arctic char, and grayling, as well as sockeye, coho, chum, and humpy salmon. Our Guided Boat fishermen have averaged over a dozen landed King Salmon per person per day on our remote river in the past. This is the greatest King Salmon fishing in Alaska! There is no other place better for king fishing.
Posted in: Nushagak Guides News