Guided trips for the Alaskan brown bear hunt
Guided trips for the Alaskan brown bear hunt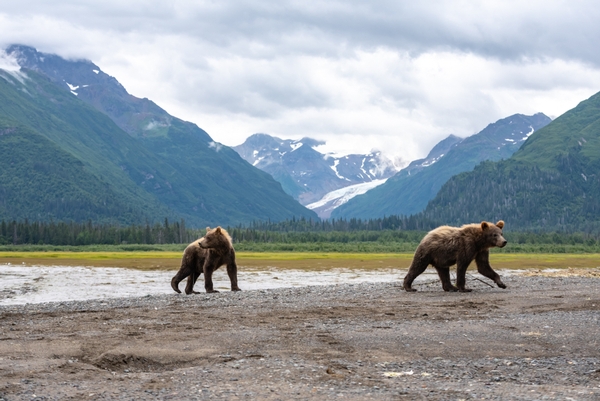 Is an Alaskan brown bear hunt on your bucket list? If yes, Nushagak Guides is here to make your experience the most thrilling while ensuring your safety. Our spring Alaskan brown bear hunt starts on April 1st and ends on May 25th under favorable weather conditions (20 to 30 degrees). Our fall Alaskan brown bear hunting season is from August 10th to September 30th.
Spring Alaskan brown bear hunt
Our skilled and knowledgeable guide operates the spring Alaskan brown bear hunt on Lake Aleknagik in Wood-Tikchik State Park from cozy remote cabins in southwestern Alaska. In these cabins, we ensure to provide our hunters with a home-like environment, home-cooked meals, and hot water.
The Alaskan brown bear can be seen looking for their favorite meal during the spring season at any time of the day. We use versatile hunting methods to lure them while maintaining safety. Since spring weather conditions can vary in southwest Alaska, our hunting methods may vary too.
For instance, if there is no snow, we use boats to travel and have the best chances of success in the hunt. If there is enough snow, we rely on the snowmobiles.
Fall Alaskan brown bear hunt
From our remote camps, we operate our fall Alaskan brown bear hunt in Wood-Tikchik State Park, north of Dillingham, AK. Fall is an amazing time to be in the wilderness of Alaska. During this time, the moose are in a rut, and multiple salmons will be flowing in the streams. Most of the hunting will be done on the boat in lakes and the Nushagak River.
The average height of bears in the fall season is 8' to 9'6". Our guided Alaskan brown bear hunt is an excellent opportunity to bring a nice Alaskan bear hunt trophy home.
Why rely on us for your Alaskan brown bear hunt?
Alaska, without a doubt, has the largest brown bears in the world, which is why many adventure lovers wish to hunt here. We make it safer and less hectic for you without compromising your adrenaline rush. Hunting strategy will depend on what season you choose.
However, regardless of what season you choose, our guide will provide you with complete insights about the place and detailed techniques of how, where, and when to plan the hunt to get the success. Moreover, based on your budget, we also offer affordable bear hunts. Visit our website today for queries. We will be happy to assist you!
Posted in: Nushagak Guides News